HOME
>
What Is EXCEL PURE?

It has a superior adhesion to Acrylic or Polycarbonate resin and provide superior "Self-Cleaning" effect. It is highly recommended for use on exterior constructions in high and narrow place where it is difficult for human maintenance.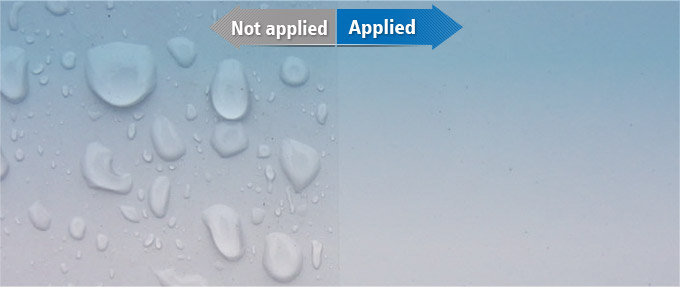 ■Forms an inorganic super hydrophilic film and provides hydrophilic effect even in a dark place.
■The antistatic effect prevents dust from latching on .
■Adheres closely to organic base materials such as Acrylic and Polycarbonate resin.
■Hydrophilic component sinks into base material and enhances its adhesion between film and material.
■Swelling depth of the base material is only 30~90nm from its outermost surface and so will not alter
 the appearance of base material it is applied to.
■Thanks to Inorganic film, the base material will not be yellowed / deteriorated basically.
■Required no light and heat to dry and harden so it is easily applied at ambient temperature.
■Can be applied to both painted and transparent surfaces due to its transparency.

Target materials
Acrylic resin, Polycarbonate resin, Glass, Polyester resin etc
Examples
Acrylic mirror, window, show case, lens, exterior wall, fiber, filter, glass panel etc
(For place required "Self-Cleaning" such as high place or narrow place)
Application method
Spin Coat, Dip Coat, Roller Coat, Brush, Bar coat and Flow coat etc

| | |
| --- | --- |
| Solvent | Alcohol mixture, Water |
| Components | Silica, Inorganic additives |
| Density | 0.82 |
| | |
| --- | --- |
| Refractive index | 1.30 |
| Particle size distribution | 10~100nm |
| Color | Light milky white |

Excel Pure maintained its hydrophilic & Self-Cleaning effects after 1-year of exposure.